The state and federal government largely responded to the activities in Detroit with brute force and state repression. At a press conference at 3:00am on the 24th, Romney said that he gave the National Guard orders to shoot anyone looting and, if fired upon, they were to "shoot to kill." With these orders from the governor himself, the role of the National Guard in the Rebellion was just as problematic and violent as the local and State Police. Numerous reporters overheard National Guardsman saying that they were going shoot anything black that moved and even witnessed two Guardsmen unknowingly firing at each other through an airshaft.  
Less than twenty-four hours after the first window was broken on twelfth street, Mayor Cavanagh contacted Vice President Hubert Humphrey and Michigan Governor George Romney contacted President Lyndon Johnson about the possibility of sending federal troops. Humphrey instructed each official that they needed to contact Attorney General Ramsey Clark about the intervention of Federal Troops. Contacting Clark about twenty-four hours after the Rebellion began, Clark said getting troops to Detroit would not be a problem. However, later in the day Clark contacted Romney, telling him that he needed to submit in writing that Detroit was in a full insurrection, and could not be put down. After several back and fourths between state and Federal officials, the laws were figured out and federal troops were sent to Detroit. 5000 soldiers in the US Army were used to occupy the East Side while the National Guard and police occupied the West Side.
President Lyndon Johnson was reluctant to send federal troops to Detroit for several reasons. First, Johnson was acutely aware that Governor Romney was a leading candidate amongst Republicans for President and his political priorities shaped his decisions about Detroit. Refusing to believe the situation in Detroit was as bad as Romney claimed, Johnson believed Romney was requesting troops because he was a poor leader and because he wanted to make Johnson look bad. Johnson was especially concerned about the likelihood that federal troops would kill a black Detroiter and that such an event might be captured on film.
Along with federal troops, President Johnson sent several federal officials to Detroit, including Cyrus Vance, the Deputy Attorney General, John Doar, the Deputy Secretary of defense, and Roger Wilkins, Assistant Attorney General. Wilkins, who was black, described his experience in Detroit as follows:
"Detroit was probably the scariest place I went to during my years in the government. Ah, there was a curfew, and you'd hear shooting occasionally as you went around at night. A lot of the, but it was eerily dark because a lot of the street lights had been shot out. You were safest on the east side of town where the federal troops were. Ah, they were disciplined troops. They were not afraid. Ah, but when you got on the west side of town which was patrolled by Detroit Police, by the National, the Michigan National Guard and by the State Police, you were in trouble. I never really felt that I was in trouble from any Black rioters or threatened. But I remember one night driving out Grand River, a major artery in Detroit, and being passed by a convoy of State Troopers. The State Troopers were the scariest people because they were from out in the state, most of them had had very little contact with Black people, very little contact with Detroit. They were from little places like Grayling and Zeeland and here, all of a sudden, they were in big Detroit and there were all these Black people that they were afraid of. And frightened people with guns are terrifying. And as we were driving along there was this convoy of several State Trooper cars and I was alone with one of the people who worked with me, who is also Black. And the State Troopers called out and said "Get off the streets! Get off the streets!" Well, we were federal officials and we were permitted to be on the streets and their convoy circled around and, and followed us and pulled us over at the corner of Joy Road and Grand River. And they surrounded us. Well, usually you had your, your credentials, your Justice Department credentials in your pocket, but you knew that if you came out of a car surrounded by State Troopers with your hand in your pocket, you're going to be dead. So instead of reaching for my credentials, I got out of the car with my hands up screaming "Justice Department! Justice Department!" As I looked around there were State Troopers either kneeling or standing, all of them pointing guns at my colleague and me. And they were shivering and I was shivering."
References
Sidney Fine, Violence in the Model City: The Cavanagh Administration, Race Relations, and the Detroit Riot of 1967, East Lansing, MI, Michigan State University Press, 1989
Roger Wilkins interviewed by Blackside, Inc., October 17, 1988
Watch this clip from WWJ-TV's special report "Six Days in July" to see footage of press conferences held by Mayor Jerome Cavanagh and Governor George Romney in response to the outbreak of the rebellion. –Credit: https://www.clickondetroit.com/1967-detroit-riots
Clip from a 1988 interview with Congressman John Conyers, in which he explains how government attitudes toward Black communities influenced responses to the 1967 Detroit Rebellion. –Credit: Henry Hampton Collection, Washington University Libraries
Excerpt from President Johnson's July 24, 1967 address to the nation regarding civil disorder in Detroit and Newark. President Johnson focuses his address mainly upon "law and order" and acts of "violence" and "lawlessness" during the rebellions. –Credit: LBJ Presidential Library
Clip from a 1988 interview with former US Assistant Attorney General Roger Wilkins, in which he describes the actions of federal government during the 1967 Detroit Rebellion. –Credit: Henry Hampton Collection, Washington University Libraries
Clip from a 1988 interview with Congressman John Conyers, in which he explains the federal government's perception of the 1967 Detroit Rebellion as a subversive plot. –Credit: Henry Hampton Collection, Washington University Libraries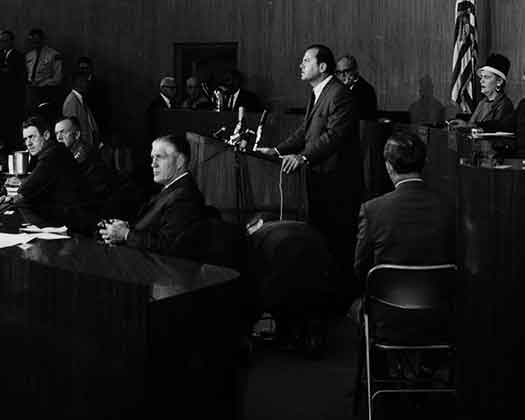 Mayor Jerome Cavanagh speaks at an emergency meeting of community leaders during the 1967 Detroit Rebellion. –Credit: Walter P. Reuther Library, Archives of Labor and Urban Affairs, Wayne State University
Clip from a 1988 interview with former US Assistant Attorney General Roger Wilkins, in which he describes the actions of Michigan State Troopers during the 1967 Detroit Rebellion. –Credit: Henry Hampton Collection, Washington University Libraries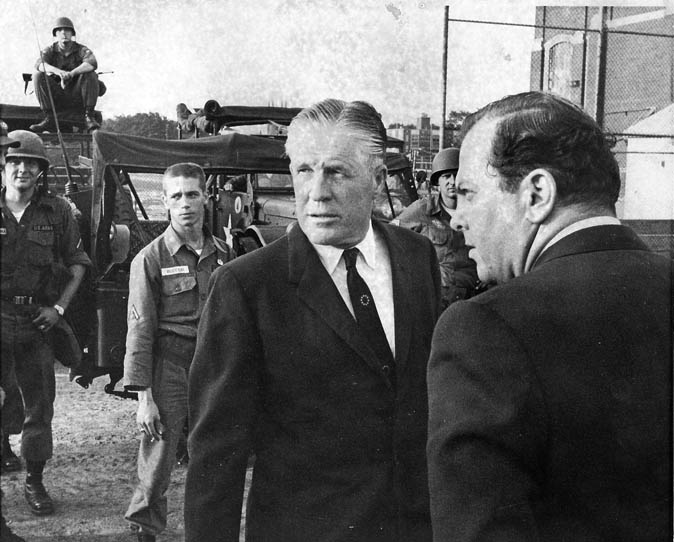 Governor George Romney and Detroit Mayor Jerome Cavanagh watch events unfold "in the field," likely from the grounds of Southeastern High School.–Credit: Walter P. Reuther Library, Archives of Labor and Urban Affairs, Wayne State University
Clip from a 1988 interview with former US Assistant Attorney General Roger Wilkins, in which he explains his anger at President Lyndon Johnson's response to the 1967 Detroit Rebellion. –Credit: Henry Hampton Collection, Washington University Libraries