Walter Grzanka

, 45, shot dead early on July 24 by store owner Hamid Audish Yacoub after he walked through the broken windows of a looted store at 2844 4th St.

Sheren George

, 23, mother of two, shot dead early morning July 24 while in the passenger's seat of a car driven by her husband near Woodward Ave. and Melbourne.

Clifton Pryor

, 23, shot dead morning of July 24 at 667 W. Alexandrine, by a National Guardsman. The Guardsman said he refused to halt and was a sniper. His family strongly denies the claim.

Fred Williams

, 49, died at 9541 Goodwin, after a Molotov cocktail flew into a store and caused a fire.  

Herman Ector

, 30, shot dead by an unlicensed private security guard who was later charged in Ector's death. Ector was shot while arguing with the security guard about the way he was treating suspected looters.

Daniel Jennings

, construction worker, father of 14. Shot dead by Stanley Meszczenski at Maszczenski's drugstore at 6000 John R. Prosecutors said Meszczenski was justified in shooting Jennings, saying he was attempting to loot.

Robert Beal

, 49, was shot dead by police while looting an auto parts store on Oakland. Police said the officer ordered Beal to come out and shot when he suddenly moved toward the officer.

Joseph Chandler

was shot dead at 1:45 p.m. on July 24 by police after looting at Food Time Market at 8360 Second Ave. near his home.

Herman Canty

, 46, shot dead by police while he looting the Bi-Lo Supermarket at 2450 W. Grand Blvd. Witnesses said he was loading looted goods into a van.

Alfred Peachlum

shot dead by police at 4 p.m. July 24, while looting A&P supermarket at 3430 Joy.

Alphonso Smith

, 35, a waiter, was shot dead by police at 4:15 p.m. July 24while looting a grocery store at 9750 Dexter.

Edward Kemp

, killed by National Guardsmen at 5:20 p.m. July 24 while looting a market at 1800 Mack.

Nathaniel Edmonds

, 23, accused of looting a store, was shot in the chest by a 24-year-old man.

Richard Sims

, 35, a Chrysler employee, shot by police on corner of Buena Vista and Linwood while running away. Police said he was trying to break into a bar.

Carl Smith

, Detroit Fire Department, was shot as he and other firefighters amidst sniper fire on the corner of Mack and St. Jean.

Manuel Cosbey,

shot by police on July 25 at 4441 E. Nevada while looting.

Julius Dorsey

, 55, shot by police, was a private guard trying to protect a store from being looted.

Henry Denson

, was in a car on Mack when he was struck by a bullet from a National Guardsman. Authorities say the car he was in attempted to hit police. The driver denied the police account.

Ronald Evans

and

William Jones

were shot and killed by Detroit Police while looting Bob's Market, 4100 Pennsylvania.

Jerome Olshove

, 32, the only Detroit Police officer killed during the week. During a scuffle he was struck by another officer's gun.

Frank Tanner

, 19, shot by police while fleeing a pharmacy on corner of East Grand Blvd. and Helen.

Arthur Johnson

and

Perry Williams

shot dead by police as while looting a pawn shop at 1401 Holbrook.

Jack Sydnor

shot and killed by police. Police say he was a sniper, firing into the street. The Free Press said he was the only sniper killed during the riot.

Willie McDaniels

, 23, was looting a store at Gratiot and Canton. Police said he was shot in an exchange of fire between police and snipers.

Helen Hall

, 50, was in Detroit for a business trip. Killed by a bullet from police or National Guardsmen, she opened the drapes of a fourth-floor window at Harlan House Motel and was killed.

Tonya Lynn Blanding

, 4, shot on the corner of 12th and Euclid. National Guardsmen fired at her home after mistaking a lit cigarette for sniper fire from an apartment building.

William Dalton

, 19, killed by police with a shotgun blast. Police said he was an arsonist.

Auburey Pollard

, 19,

Carl Cooper

, 17, and

Fred Temple

, 18, were killed by police at the Algiers Motel. Police were cleared of all charges.

Willie Hunter

and

Prince Williams

died of carbon monoxide asphyxiation from arson in a drugstore on 12th St.

Julius Lust

, 26, killed by police while looting auto parts from 17130 Jos. Campau. Two Detroit Police officers shot at him.

Krikor George Messerlian

, 68, beaten by a mob inside his shoe repair store, 7711 Linwood.  

John LeRoy

, 30, was shot by National Guardsmen at Lycaste and Mack after running through a roadblock.

Ernest Roquemore

, 19, shot in the back by an Army paratrooper as part of a crowd fleeing a police raid on the east side.

John Ashby

, firefighter, suffered burns while battling a blaze set by an arsonist. His metal helmet touched a high-voltage line.

George Talbert

, shot and mortally wounded on July 26 by a National Guardsman as he walked down a west side street.

Albert Robinson

, 38, factory worker, killed by National Guardsmen who believed they were firing at a sniper.

Larry Post

, a National Guard sergeant, shot accidentally by a fellow Guardsman

Roy Banks

, 46, shot by National Guardsman at 4:30 a.m. July 25. He died Aug. 14, the last riot victim to die. Police say he was one of two men looting a bar and was shot while fleeing.
References
"43 Fatal Victims of the 1967 Detroit Riot," Detroit Free Press, July 22, 2017
** In this clip from WWJ-TV's "Six Days in July," Detroit residents describe acts of violence inflicted upon the community by police and the National Guard during the 1967 Detroit Rebellion, including the death of four-year-old Tanya Blanding. — Credit: Click On Detroit (clickondetroit.com/1967-detroit-riots)
A list of mistreatment committed by police during the 1967 rebellion. Complaints range from beatings, wrongful imprisonments, robberies, and gunshot wounds from stray bullets. Credit: Walter P. Reuther Library, Archives of Labor and Urban Affairs, Wayne State University.
Clip from a 1988 interview with Detroit activist Ron Scott, in which he describes an encounter with the National Guard during the 1967 Detroit Rebellion. — Credit: Henry Hampton Collection, Washington University Libraries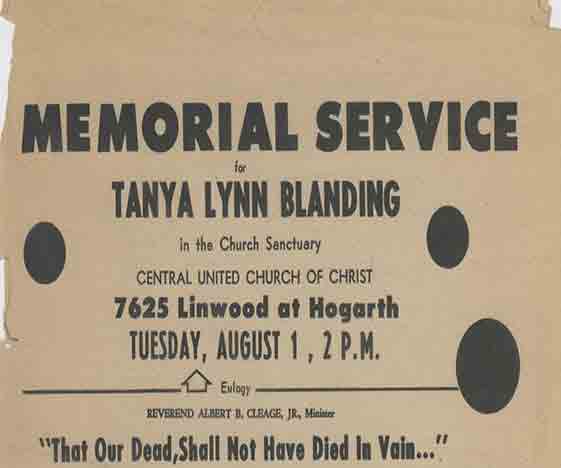 Tanya Lynn Blanding, 4, was killed by a National Guard bullet during the 1967 uprising. Hundreds of mourners attended her funeral on August 1, 1967. — Credit: Walter P. Reuther Library, Archives of Labor and Urban Affairs, Wayne State University.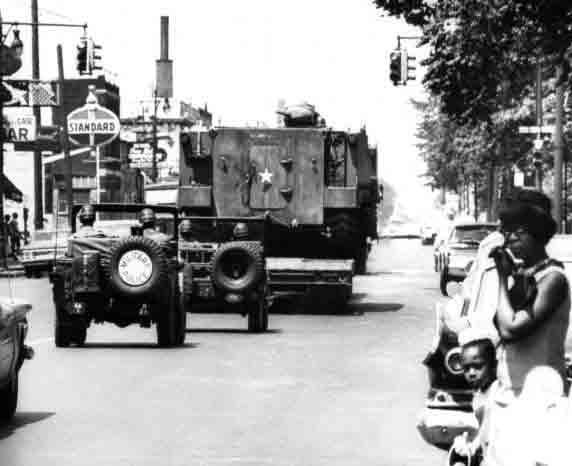 Caption reads: "GUARD LEAVES, BUT SORROW STAYS- Some Michigan National Guard equipment rolls out of Detroit Tuesday after Civil Unrest subsided, but a woman weeps quietly as she heads for a funeral. Tanya Lynn Blanding, 4, was killed, apparently by a police or National Guard bullet, during the height of the burning, looting and killings last week. Her funeral was held Tuesday with some 200 mourners attending." — Credit: Walter P. Reuther Library, Archives of Labor and Urban Affairs, Wayne State University.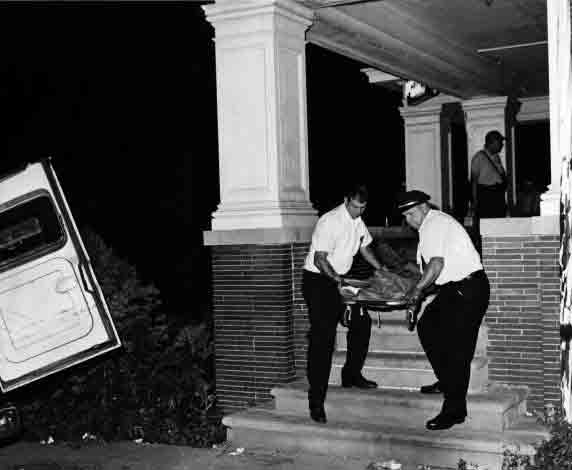 On July 25, 1967, police raided the Algiers Motel on Woodward Avenue looking for rumored snipers. While questioning motel guests, police killed 3 Black men in the hotel, beat 9 others, and found no snipers. — Credit: Walter P. Reuther Library, Archives of Labor and Urban Affairs, Wayne State University
Clip from a 1989 interview with Detroit resident Herb Boyd, in which he addresses rumors of "snipers" during the 1967 Detroit Rebellion. During many of the urban rebellions of the 1960s, rumors circulated that armed "snipers" were perched in windows and targeting law enforcement and fire fighters. The majority of these rumors were unfounded, but resulted in National Guard and police firing indiscriminately at suspected snipers in buildings, sidewalks, and cars.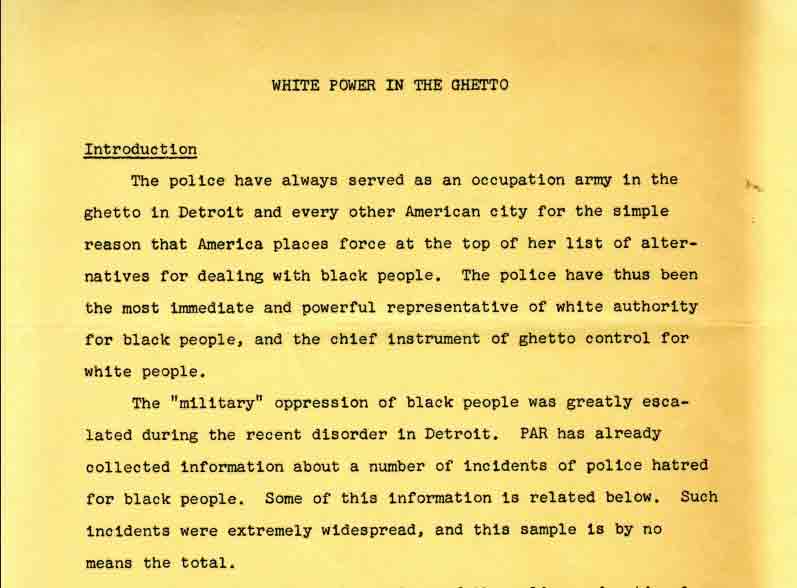 A statment issued by People Against Racism, an outgrowth of the Northern Student Movement, in response to the brutality of city and state police, National Guard, and federal troops during the 1967 Detroit Rebellion. In this statement, PAR explains the roles of law enforcement in maintaining "white power in the ghetto." — Credit: Walter P. Reuther Library, Archives of Labor and Urban Affairs, Wayne State University
Clips from 2018 interviews with Detroit activists Frank Joyce and Dan Aldridge, in which they discuss the People's Tribunal of the police officers who killed three Black teenagers at the Algiers Motel during the 1967 Detroit Rebellion. — Videography: 248 Pencils